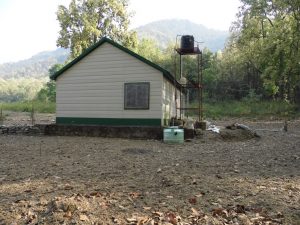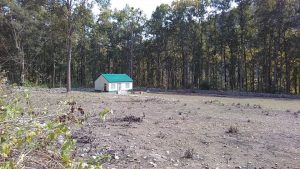 The First Mistake :

This one's well specced out pre-fab structure. 2 rooms, a shared bathroom, a small living space and even a tiny kitchenette! What's with the name? We think it's awesome to stay in – just a little out of place 🙂 But hey, we're glad it's there now it's there.
2 rooms to be rented together with a living area, shred bathroom.
Covered sitout and bonfire outside
Pricing for the entire hut, all inclusive :
2 days/1 night : Rs.11,750/-
3 days/2 nights : Rs.22,325/-
4 days/3 nights : Rs.31,725/-
Extra person per night (extra mattress in the living area): Rs.1950/-
(Pricing valid upto Mar 31st 2017 except over Dec 17th – Jan 2nd)
Pricing above is for upto 4 people, seriously all inclusive, including taxes. This includes everything at the property : all the meals, unlimited tea/coffee/non-packaged juices and snacks whenever your tummy grumbles, walks and treks around the property, bonfire, use of the library etc.
Checkin/checkout is at 11am. Feel free to stay with us longer – we might ask for the room in case there's a guest coming in after you the same day.
Kids upto 10 years of age are our guests at no charge.
We offer long stay discounts and special pricing for multi-week stays.Do write in for more.